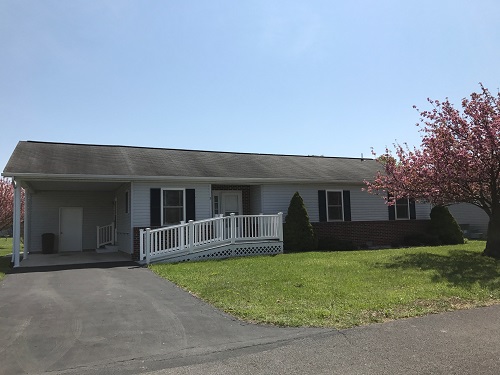 The Terry Shobe Independent Housing & Retirement Campus is a living environment which allows an individual or a couple to reside in a modern on floor home in a quiet residential setting. 
Each home is approximately 1340 square feet. 
The homes have two nice size bedrooms with large walk-in closets and a master bathroom, a kitchen, a hallway bathroom, a washer & dryer area, living room, and a dining room.
Each home also has a screened in porch and a carport with a storage room.
All large appliances are furnished. The furnished appliances are washer/dryer, refrigerator, electric rave, microwave, dishwasher, and garbage disposal.
Prospective residents must be individuals who are 62 years of age or older or a married couple, one of which is 62 years of age or older.
Individuals need to be in good physical/mental health and capable of living alone.
Each applicant must be able to pass a physical as a part of the application process. 
SUPPLEMENTAL SERVICES PROVIDED:
 Each home will be provided the following services for a monthly service fee:
Snow Removal
Maintenance of lawn & shrubbery
Minor maintenance repair
Emergency Phone Accessibility to GRCC for health care emergencies anytime, day or night
Meals are available from GRCC's Nutrition Services
Individuals may participate in activities at GRCC, if you desire
Residents of each home will be given priority status to enter GRCC if that need should arise in the future
The admission fee paid when the resident signs the occupancy agreement is also repayable to the resident or heirs under an established "Residual Value Schedule."
For more information, please contact the Administrator of Grant Rehabilitation and Care Center or stop in at 127 Early Ave in Petersburg, WV.